Matt Ip: Thank you for joining us today. Could you please state your name and tell us a little bit about yourself?
Darla Benore:My name is Darla Benore. My husband Jeremy Benore and I are both from Denver, Colorado. Currently, I work in the 5 Stars School District, and Jeremy works for Labcore Logistics in Denver.
Matt Ip:Tell me about Hammy's Exotic Brats. What makes it unique?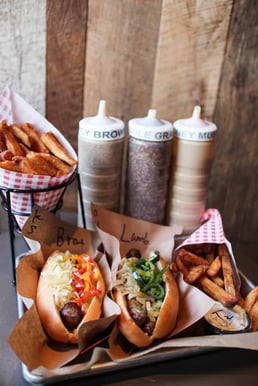 Darla Benore: Hammy's Exotic Brats is a food truck business inspired by our son Brian Hamilton's creativity. He came up with the idea of adding different flavors to bratwursts a couple of summers ago. He started making them for himself and selling them in packages of four to friends and family. They were a hit, but as the prices of pork and chicken kept rising, he couldn't sell them at the desired price of $5 each. So, we decided to turn his idea into a food truck business about 11 months ago. Our truck is currently being built by North American Food Truck Builders, and we're excited for its completion.
MI: That sounds like an exciting venture. Can you tell me more about how you acquired the truck and your plans moving forward?
Jeremy Benore: We were actually fortunate when it came to finding the truck. Initially, we were considering one in Georgia, but at the last minute, the deal fell through. So, we went online and found a truck that was previously used on a military base in Indiana. It was being sold by Alan Marsh, a dealer in Boise, Idaho. We encountered some challenges during the journey back home, especially in the snowy mountains, but we made it. Now, we've finalized our designs, started making brats, and are eagerly looking forward to our first official soft opening with the Twisted Steel Car Club. We're also exploring opportunities to collaborate with a microbrewery in Golden, thanks to Darla's connections in the school district.
Matt Ip: That's fantastic! It seems like you're blending your passion for hot rods and a 1920s theme into your business. Can you elaborate on that?
Darla Benore: Absolutely! We have a deep love for hot rods and old-school cars, particularly those from the 70s, 80s, and 90s. For our food truck, we've decided on a 1920s theme. Our main character, named Peddles, is dressed as a 1920s flapper girl since we specialize in selling pork and chicken. We're excited to bring this unique aesthetic to our customers and create a memorable experience.